The first time I heard a child born after a loss referred to as a "rainbow baby," I completely rejected the whole idea of it. I had never heard the term before Madison, but I frankly hated it. Maybe it was the stage of grief I was experiencing, maybe it was because I have never really been into labeling things.
It made me feel like the child that followed was somehow charged with being a light and a source of healing to the family and loved ones in the aftermath of the loss. I thought about how that child may lose a bit of its own identity. That seems like a lot of pressure to put on a tiny little human.
And then there is the implication that all this means my Madison was the "storm" that preceded the rainbow. That just does not work for me at all. That will always be the saddest and most difficult chapter of my life, but I don't like the idea that she was anything less than bright and beautiful.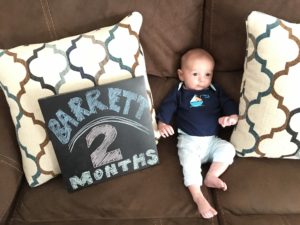 Then this week, in the (very) early hours one morning, I felt it. He is my rainbow.
Barrett allows me to appreciate being still and reflective again. He gives me a sense of peace and joy. He reaffirms my faith, and my appreciation for nature.
He does all of this in concert with his older brother and sister, not in place of.
He is my rainbow.
SaveSave
SaveSave