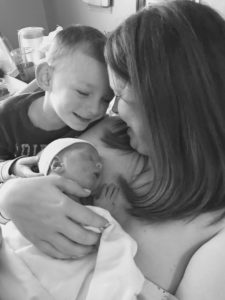 I hope you will all forgive me for being so out of touch these last two weeks, but I have the very best snuggly little reason.
Barrett Asher Lafond joined us on Sunday, January 29, at 1:10pm. He weighed 7 pounds 2 ounces and was 20 inches long. He was 4 weeks early.
I woke up Sunday morning and had a feeling it was going to be that day. I remember telling Jeff after breakfast that I should go take a shower just in case. As soon as I got upstairs my water broke. It was 10:30.
I took my shower and we all got dressed and ready to go. I didn't make any calls along the way except to my OB because my contractions weren't close and I felt we had a long day ahead.
I didn't feel the fear I thought I would as we walked into the hospital. The reassuring kicks from B helped a lot.
I had worried about so many things during my pregnancy. The scary unknown was how I would handle being back in a delivery room in labor.
Lucky for me, Barrett had plans for a quick arrival!
I checked in to the hospital at 12:15pm at 7cm. 55 minutes later I quietly (ok maybe a bit loudly) called for the doctor. He barely had time to get his gloves on – I pushed once and Barrett was here.
I asked the doctors and nurses at least a dozen times if he was really ok. Even though he was pink and crying and breathing, I somehow still didn't believe it.
Unless you have been through this, I don't think you can fully understand the relief of giving birth to a living child after a loss. I feel so grateful that he's here, safe and alive. I feel so relieved not to be pregnant anymore. Not in the "I'm tired of being uncomfortable" and "I hate my swollen ankles" way. I didn't fully realize the extent to which I worried about Barrett's birth until I didn't have to anymore.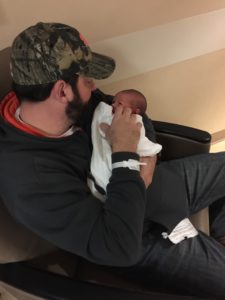 The past two weeks have been amazing. They've been emotional. They've been full of 'on your knees overwhelming gratitude' that this little boy is a part of our family.
As I sit here this unseasonably warm February Sunday, the clock turns 1:10pm and he's officially 2 weeks old. I am watching my two big boys fly kites as I nurse the little one. Madison feels very close by.
I am without words to express how thankful I am for all of your prayers and positive thoughts throughout our pregnancy with Barrett. While I can't promise it won't be another two weeks before I post again, I hope to talk to you all again very soon.
With love and light,